Craol Féile and Achievement Awards 2016
Near 90 fm, Bunratty Road, Dublin, Ireland
The Near FM team are excited about hosting the Craol Féile this year. We will have workshops, talks and seminars on a wide range of topics. Workshops will include, Podcasting, Social media, Best practice in station access, Media literacy in your training. With pure programming there'll be excellence in production and participation in commenorative 1916 programming, Irish language, education and children's programming and radio drama. There'll be a seminar on European projects and funding with speakers and examples from various projects, and there'll be a Féile panel on the right to communication featuring Dr Roderick Flynn from DCU, Amarc Europe president Soledad Galiana, Caoimhe Butterly among others. And the Gala dinner, an evening ceremony celebrating the entries to the CRAOL achievements awards with entertainment, singing and dancing.
Registration for places is restricted to CRAOL members only and people need to register with Near Fm to ensure entry to the event.
Near 90 fm, Bunratty Road, Dublin, Ireland
Join us for National Community Radio Day 2021 on  Friday 18th of June 2021 from 10am – 7pm which will be hosted by Dundalk FM on behalf of Community Radio Ireland and supported by the Broadcasting Authority of Ireland.The day will be packed with voices from the...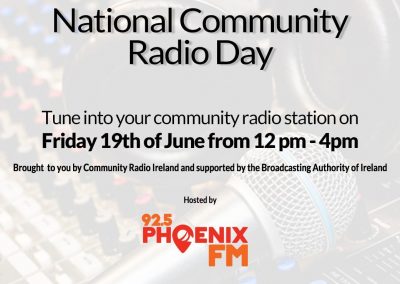 This year's event sees the network simulcasting a special four hour broadcast, hosted by 92.5 Phoenix FM, the Community Radio based in Blanchardstown, Dublin 15.