Media Literacy for Craol Registered Trainers
Ashling Hotel Dublin, Parkgate Street, Dublin, Ireland
CRAOL is running an information workshop on our new Media Literacy Level 5 QQI course.
This QQI validated course is suitable for many forms of delivery. In the case of Craol, it is aimed at volunteers and staff in community radio, to provide them with a grounding in all areas of Media Literacy which can inform their work of creating community media content. It is also suitable for delivery to members of the wider community, those seeking to understand the impact of media on individuals and communities.
Who should attend the training:
CRAOL QQI registered trainers only can contact pr**********@cr***.ie for more information.
Station volunteers and members of the public:
For information on future training opportunities in Media Literacy and other topics, make sure to check our events page regularly.
Ashling Hotel Dublin, Parkgate Street, Dublin, Ireland
Join us for National Community Radio Day 2021 on  Friday 18th of June 2021 from 10am – 7pm which will be hosted by Dundalk FM on behalf of Community Radio Ireland and supported by the Broadcasting Authority of Ireland.The day will be packed with voices from the...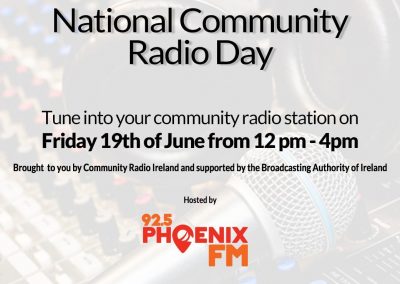 This year's event sees the network simulcasting a special four hour broadcast, hosted by 92.5 Phoenix FM, the Community Radio based in Blanchardstown, Dublin 15.