National Community Radio Day 2021
Dundalk FM, Park Street, Dundalk, County Louth, Ireland
The day will be packed with voices from the Community Media sector discussing the social benefits that Community Radio Stations bring to their areas.

We will have an all-Irish Music day- with tracks introduced by the musicians themselves.

You can hear an interview with Celine Craig, Deputy CEO of the Broadcasting Authority of Ireland and also with the Future of Media Commission Chairperson Professor Brian MacCraith and a special message from President Michael D Higgins for community radio stations.

Every hour we will bring you several featurettes about the work that goes on behind the scenes at Community Stations.

A highlight will be a panel discussion about the newly launched Community Media Policy with contributions from Elaine King, Community Television Association, Ciaran Kissane, Broadcasting Authority of Ireland, Jack Byrne, Community Radio Ireland and Seán Ó Siochrú, Nexus Research Cooperative.

For the up-to-the-minute running order for the day, see the Dundalk FM website, and check with your local Community Radio Station to see how they're celebrating the day, and what hours they will be simulcasting the national broadcast.
Dundalk FM, Park Street, Dundalk, County Louth, Ireland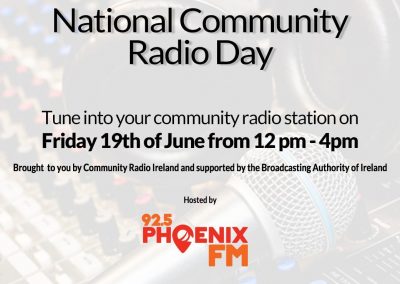 This year's event sees the network simulcasting a special four hour broadcast, hosted by 92.5 Phoenix FM, the Community Radio based in Blanchardstown, Dublin 15.
A national campaign to increase participation in community broadcasting around the country will be launched on National Community Radio Day, Friday, June 22. The campaign, entitled Community/Speak, is being organised by the Community Radio Forum. The campaign will be...