National Community Radio Day Launch – June 22nd 2018
Radisson Blu Hotel Athlone, Athlone, Co. Westmeath, Ireland
A national campaign to increase participation in community broadcasting around the country will be launched on National Community Radio Day, Friday, June 22. The campaign, entitled Community/Speak, is being organised by the Community Radio Forum.
The campaign will be launched by Athlone Community Radio, which has been on-air since 2008, with a two-hour live programme about the role of community radio in Ireland which will take place in the Radisson Blu Hotel, Athlone and you are invited to attend and help us celebrate our volunteers and the community radio network as a whole
Other community stations around Ireland will also broadcast special programmes to mark National Community Radio Day and encourage new volunteers and further information can be found on our website and social media accounts.
For tickets please click here.
Radisson Blu Hotel Athlone, Athlone, Co. Westmeath, Ireland
Join us for National Community Radio Day 2021 on  Friday 18th of June 2021 from 10am – 7pm which will be hosted by Dundalk FM on behalf of Community Radio Ireland and supported by the Broadcasting Authority of Ireland.The day will be packed with voices from the...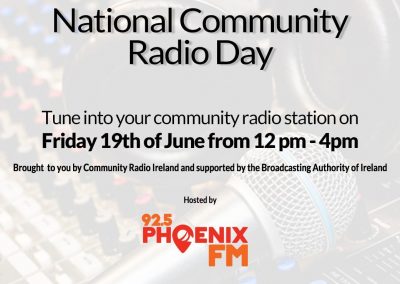 This year's event sees the network simulcasting a special four hour broadcast, hosted by 92.5 Phoenix FM, the Community Radio based in Blanchardstown, Dublin 15.