Wired FM & Belltable Media Conference
Belltable Art Centre, Limerick, Ireland
Wired FM in partnership with Belltable /Lime Tree Theatre will host a media conference on the 26th of November to celebrate 21 years of broadcasting.
Throughout the day there will be a series of workshops and panel discussions that will feature well-known industry guests such as…
Sports Journalists / Commentators:
Jamesie O' Connor (Sky TV)
Paul Collins (Today FM)
Mary White (Freelance Sports Journalist)
Liam Aherne (Live 95FM)

Arts Broadcasters / Documentary Producers /Journalists:
Cristín Leach (The Sunday Times)
Diarmuid McIntyre (Grey Heron Media/HearSay Audio festival)
Luke Clancy (SoundsDoable)
Current Affairs Broadcasters / Journalists:
Mícheál Lehane (RTÉ)
Gavin Grace (Clare FM)
Radio /Television/Digital Producers and Presenters
Will Leahy (RTE)
Colm Tobin (CBBC/RTE/The Irish Times)
Audrey Galvin (Radio Kerry/UL)
Ciaran Ryan (Freelance Documentary Maker)
Aoife Nic Canna (Near FM)
Kathryn Hayes (UL)
Michelle Ryan (Ardmore Studios/Penny Dreadful)
Kathryn Hayes (UL)
Music Panel
Tom Prendergast (Bar/None Records)
Sinead Troy (IASCA)
Steven Ryan (Windings/Giveamanakick)
Nessa McGann (Spin SW)
Roddie Cleere (KLCR)
Film Producers
Niall Flynn (Atlantic Light Productions)
James Dennsion (Atlantic Light Productions)
+ lots more to be announced!
Topics on the day will include…
Mapping a Career inMedia
Making film on a Shoestring Budget
The Changing Face of Sports Punditry
How Music Works
+ many more!
For more information and to register for free visit https://www.limetreetheatre.ie/belltable
Belltable Art Centre, Limerick, Ireland
Join us for National Community Radio Day 2021 on  Friday 18th of June 2021 from 10am – 7pm which will be hosted by Dundalk FM on behalf of Community Radio Ireland and supported by the Broadcasting Authority of Ireland.The day will be packed with voices from the...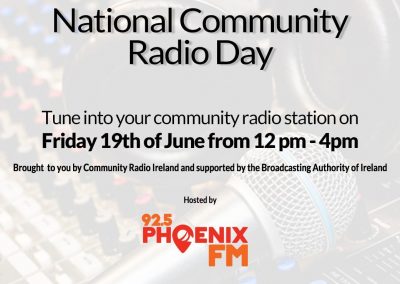 This year's event sees the network simulcasting a special four hour broadcast, hosted by 92.5 Phoenix FM, the Community Radio based in Blanchardstown, Dublin 15.